Bank Failures Were Reflected in News-Sentiment-Factor Scores
Bank Failures Were Reflected in News-Sentiment-Factor Scores
The events that followed the collapse of Silicon Valley Bank (SVB) in early March — notably the failure of Signature Bank and the takeover of Credit Suisse Group by UBS Group AG — resulted in a fall in markets across the globe. They also raised questions about the health and risk management of banks and other financial institutions in the face of rising rates.
What did this look like at a factor level?
To find out, we looked at the Global Industry Classification Standard (GICS®)1 industry group, banks, through the lens of MSCI Factor Lab's news-sentiment (composite) score.2 We saw that bank scores, in aggregate, reacted swiftly to the negative news on SVB and Credit Suisse. U.S. bank stocks were hit worse than their European counterparts, and this effect was captured in the sharper decline of the news-sentiment score of U.S. banks.
We next compared news-sentiment scores for various sub-industries within the financials sector before the start (Feb. 15) and after the height (April 7) of the crisis. The decline in the relative news-sentiment score of regional banks was greater than that of diversified banks. This was in line with expectations, as during uncertain times banking clients may prefer to move deposits from smaller regional banks to larger banks. Interestingly, the news-sentiment score of U.S. asset management and custody banks also experienced a big decline, showing that negative sentiment was not limited to banking stocks, but was widespread across financial institutions in the U.S.
Banks' relative performance and aggregate news-sentiment score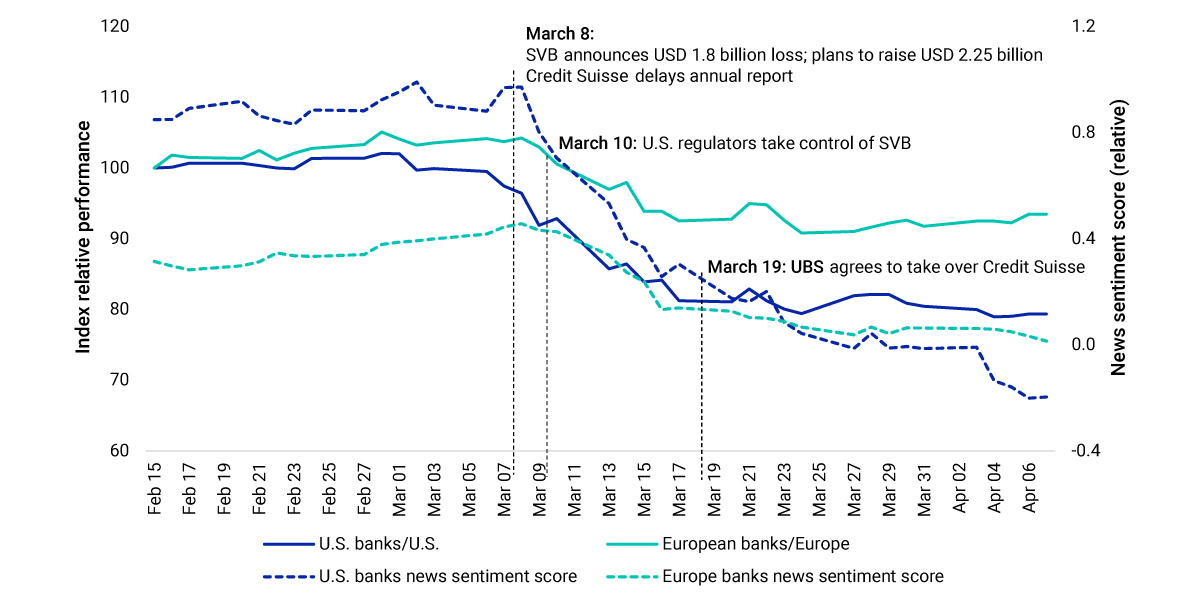 Period: Feb. 15, 2023, to April 7, 2023. Analysis is based on daily gross total returns in USD. Relative returns are calculated over respective regional market index. News-sentiment score is the weighted average z-score based on market-cap weights. Z-scoring is performed across the cross-section of the MSCI ACWI Index universe. Reported scores are relative to regional market index scores.
Aggregate news-sentiment score: U.S. subindustries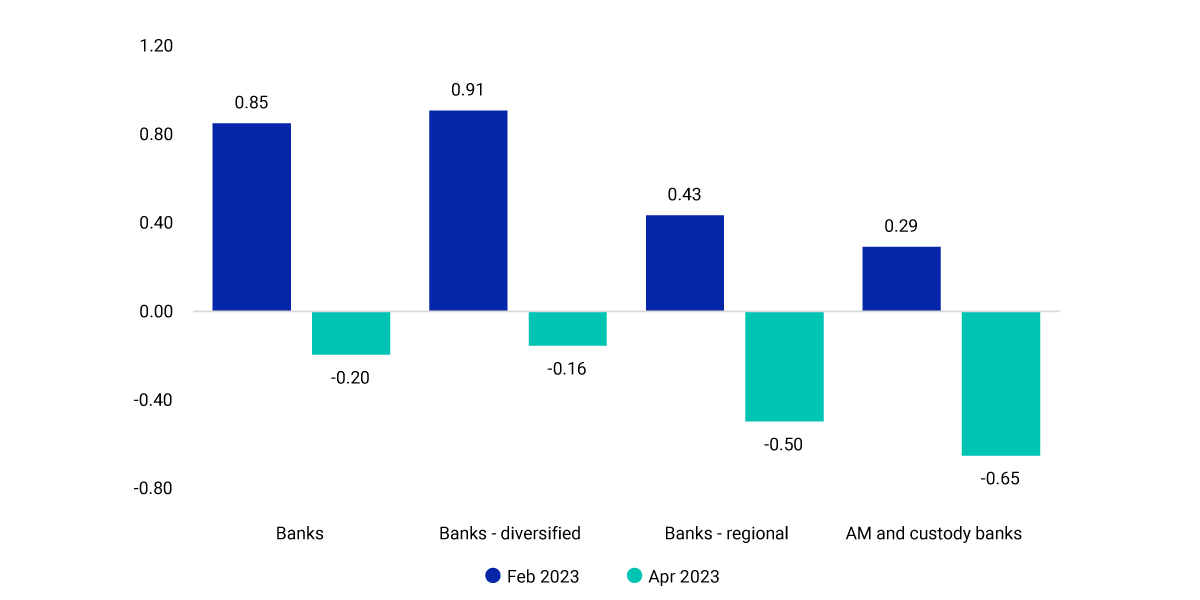 1
GICS, the global industry classification standard jointly developed by MSCI and S&P Global Market Intelligence.
2
MSCI Factor Lab's news-sentiment (composite) score captures the change in stock-level sentiment based on the count of positive and negative news articles and aims to provide a fast-moving stock-level "news" based sentiment signal at a daily frequency.