Property Climate Risk Varied Across — and Within — Markets
Property Climate Risk Varied Across — and Within — Markets
Using MSCI's Real Capital Analytics database of global real estate holdings and MSCI Real Assets Climate Analysis, we can see a broad range of aggregated physical climate value-at-risk (VaR) across selected global cities, as shown in the chart below, but these risks are not equally distributed within each city. Investors need to appreciate this wide variation of risk in each market.
Two of the cities with the highest physical-climate-change risks are Amsterdam and Miami, but their physical climate VaR profiles are very different. Although 45% of assets in Amsterdam are classified as having "severe risk," 47% of assets were classified as "negligible & risk reduction" as they are on slightly higher ground, where flooding is less likely. By contrast, for Miami the primary hazard is tropical cyclones, which are likely to have an impact across the entire city, leading to "significant risk" for nearly 100% of the market.
Location and topography can be decisive factors behind the impact of physical climate change risks, and both need to be understood at the individual asset level — not just the market level — when considering the climate VaR for real estate portfolios and prospective investments.
Average physical risk vs. risk distribution across major metros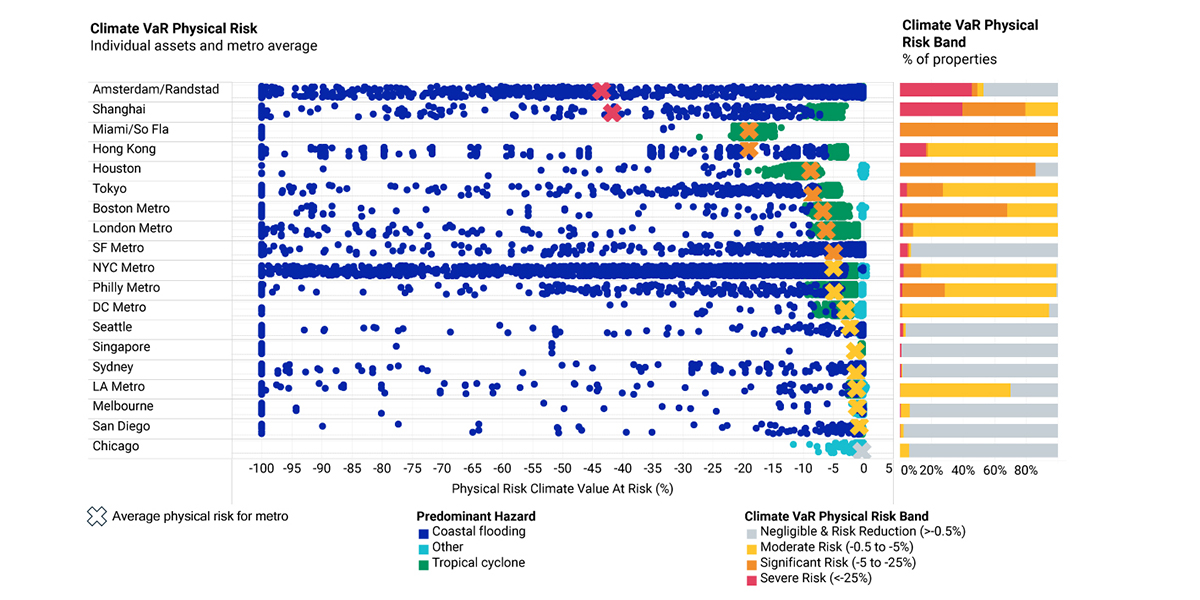 Source: MSCI Real Capital Analytics database of property holdings. MSCI Real Assets Climate Analysis. The physical risk impact of an asset is quantified by assessing the exposure of a property to a hazard and computing the costs associated with that risk using vulnerability functions specific to the real estate market.