Is the Energy Trade Running Out of Energy? intro
June 20, 2022
Energy stocks have posted double-digit gains recently as oil and gas prices have climbed steadily since their pandemic lows. The MSCI ACWI Investable Market Index (IMI) Energy Index has widely outperformed all other sectors this year, gaining over 30% while the broad equity market has fallen 20%.
Less is more
Yet the size of the energy sector is a fraction of what it was just a decade ago. Beset by bankruptcies, delistings and firms going private, the number of energy firms has fallen by 60% from its peak in 2012. In line with this trend, only 300 of the more than 9,000 firms in the MSCI ACWI IMI Index are in the energy sector.
Recipe for a crowded trade
Lofty returns and a shrinking opportunity set could be a recipe for a crowded trade. According to the MSCI Security Crowding Model, energy is the most crowded of all sectors, largely due to rising valuations and short interest. That is quite a turnaround for a sector that was shunned by investors just two years ago at the onset of pandemic-related demand destruction.
We found that equipment servicers, storers and transporters and coal producers were the most crowded firms within the energy sector. This could have implications for investors, particularly the net-zero aware, if the crowds were to disperse in the ensuing months.
The energy sector has soared while its size contracted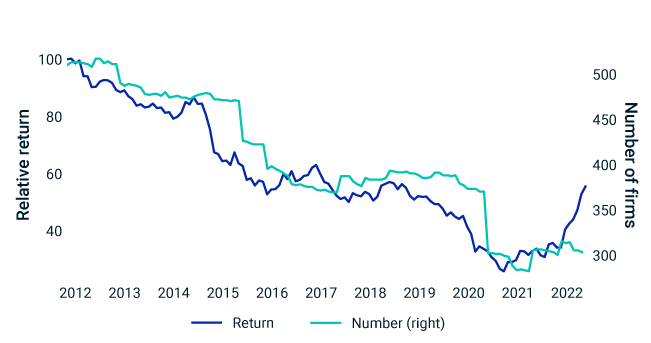 Returns are in gross USD for the MSCI ACWI IMI Energy Index relative to the MSCI ACWI IMI.
Once shunned, energy is now the most crowded sector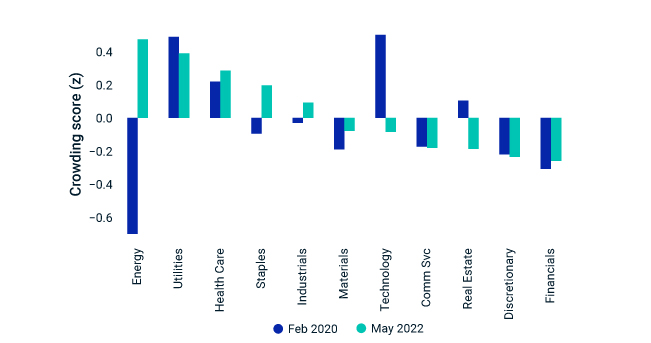 Crowding scores are capitalization-weighted and use the MSCI Security Crowding Model. A higher score indicates more crowding.
Is the Energy Trade Running Out of Energy? related content cards