Alvise Munari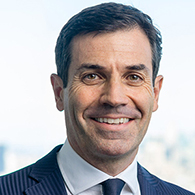 Alvise Munari
Global Head of Client Coverage
Alvise Munari is the Global Head of Client Coverage at MSCI. He is responsible for overseeing MSCI's sales, client relationship management and client service teams globally. He is also a member of MSCI's Executive Committee as well as Chairman of the EMEA region. Prior to his current role, he served as the Head of Client Coverage for EMEA since 2015. He reports into our Chief Operating Officer, Baer Pettit.
Before joining MSCI, Alvise worked at Morgan Stanley on the sell-side, as Global Head of Equity Derivatives sales and Financial Engineering. He has also held senior positions at Merrill Lynch and Goldman Sachs.
Alvise holds a DPhil. in Mathematics from Oxford University and an undergraduate degree in Economics and Mathematics from the London School of Economics. He was also a post-doctoral fellow in the mathematical laboratories at the École Polytechnique.
Related Content - Our Leadership

Related Content
Our Leadership
Our senior leadership team is comprised of highly experienced executives from diverse backgrounds.
Learn More
cookiebar.preferences-title
cookiebar.accept-all-text
cookiebar.other-information-text