Andrew Wiechmann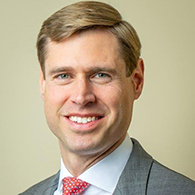 Andrew C. Wiechmann
Chief Financial Officer and Chief Strategy Officer
As Chief Financial Officer, Andy C. Wiechmann, leads the company's global finance and investor relations functions, and partners with the heads of the Company's product lines and key functions to drive efficient financial management of the Company. He is a member of MSCI's Executive Committee.
Andy Wiechmann also currently serves as the Company's Chief Strategy Officer. In this role he is responsible for driving MSCI's growth strategy and planning process, overseeing M&A and partnership activities, and supporting the business on its most important strategic growth initiatives.
He has served as Head of Strategy and Corporate Development since July 2012, as Head of Investor Relations from December 2017 to March 2019 and Head of Financial Planning & Analysis from July 2015 to December 2017. In these roles, he has played an integral role in managing the firm's capital structure, including helping to establish the leverage and dividend policies and overseeing the share repurchase and financing activities.
While Andy formally joined MSCI in 2012, he has been a member of the MSCI family since 2006; beginning with his work on various potential acquisitions as well as MSCI's IPO while an investment banker at Morgan Stanley. Over the years, he has been a key member of our finance organization, performing numerous responsibilities and providing significant contributions to our ongoing transformation.
Prior to joining MSCI in 2012, Mr. Wiechmann was an investment banker at Morgan Stanley where he executed M&A and capital markets transactions for financial technology and specialty finance companies.
Mr. Wiechmann holds Bachelor of Arts degrees in Physics and Economics from Hamilton College.
Related Content - Our Leadership

Related Content
Our Leadership
Our senior leadership team is comprised of highly experienced executives from diverse backgrounds.
Learn More
Corporate Responsibility
In changing times, MSCI's commitment to its employees and the wider communities in which it operates is paramount.
Read More
cookiebar.preferences-title
cookiebar.accept-all-text
cookiebar.other-information-text