Solutions for Banks
In the wake of the financial crisis, the banking sector has confronted myriad new and evolving regulations aimed in part at ensuring that institutions can remain solvent and withstand a wide range of risk scenarios. In many cases, compliance with these regulations demands data that spans banking divisions, from risk management to compliance, and asset classes, from traditional retail exposures in the banking book, to fixed income and derivatives in the trading book. What's more, it can require insight not just into a bank's own activities, but also into its clients and partners.
An established leader in compliance reporting, risk analysis and liquidity metrics, MSCI has the in-depth expertise and solutions that banks can leverage to navigate their global compliance reporting landscape.
ECONOMIC CAPITAL
Consolidate and compare risks and opportunities across the entire banking book, including bonds, credit derivatives and traditional retail exposures.
MSCI's cutting-edge analytics, speed and distribution capabilities aim to help empower banking clients to analyze positions, opportunities and risks across lines of business. Keep pace in a dynamic environment and quantify overall credit risk by capturing market exposures, rating changes and default risks within Value at Risk (VaR) and Expected Shortfall frameworks.
The solution calculates Credit Risk due to migration and default of the banking book using CreditMetrics®, which allows clients to quickly and efficiently measure and report Concentration Risk and Contributions to Economic Capital.
For more information on Economic Capital and how MSCI can help, contact us today.
PRIIPS
As a result of 2017 EU legislation, banks, insurers and asset managers that are producing or selling "packaged retail investment" and "insurance-based investment" products (PRIIPS) will need to produce key information documents (KIDs) for retail investors to compare products across multiple providers.
MSCI helps banks comply by providing calculations for market risk and performance scenarios, and facilitating the end-to-end production of KIDs through an arrangement with Kneip via ManagedService and WebService delivery channels for:
Category I (Derivatives)
Category II (Investment Funds)
Category III (Structured Products)
For more information on PRIIPS and how MSCI can help, download our factsheet or contact us today.
REGULATORY CAPITAL
The Basel Committee on Banking Supervision's (BCBS) revised rules for minimum capital requirements under its Fundamental Review of the Trading Book (FRTB) regulations specifies two capital charge approaches: the mandatory Standardized Approach and the optional Internal Model Approach.
MSCI combines robust analytics and market data via a new Capital Module in RiskManager, which banks can use to help comply with the Standardized Approach and the Internal Model Approach. Our expertise in modeling complex risk calculations and our data and reporting infrastructure enable us to help clients by offering an end-to-end solution for the Standardized Approach and an analytically focused solution for the Internal Model Approach.
For more information on Regulatory Capital and how MSCI can help, download our factsheet or contact us today.
STRESS TESTING
Stress testing is now typically a central component of banking regulations globally, as Basel has shifted stress testing from a recommendation to a requirement. MSCI offers analytics and tools to help banks satisfy these requirements across many jurisdictions. These include the Comprehensive Capital Analysis and Review (CCAR), which is an assessment mandated by the U.S. Federal Reserve to determine whether large banks have sufficient capital to endure idiosyncratic and economic risks. Clients also leverage MSCI stress testing models to measure the impact of the Bank of England and European Banking Authority stress scenarios.
MSCI's research team has designed a robust set of granular risk factor and model parameter stress tests to support firms in calculating Trading Book Profit and Loss and Stressed Counterparty Exposure under various regulatory scenarios.
For more information on Stress Testing and how MSCI can help, download our factsheet or contact us today.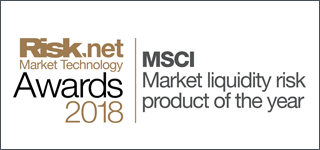 Market Liquidity Risk Product of the year
MSCI's LiquidityMetrics is recognized for the second time as the leading liquidity risk measurement framework.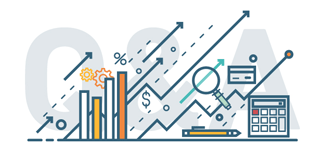 GETTING READY FOR LIQUIDITY RISK MANAGEMENT RULES
MSCI's Carlo Acerbi and IHS Markit's Dan Huscher discuss the latest developments in the SEC rule and how investors can prepare for its implementation.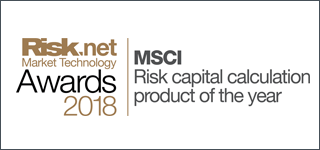 Risk Capital Calculation Product of the Year
MSCI's innovative solution for Fundamental Review of the Trading Book (FRTB) wins Risk.net award.