Factor ESG indexes hero image

MSCI factor ESG target indexes
MSCI factor ESG target indexes
MSCI Factor ESG Target Indexes are designed to represent the performance of a strategy that seeks systematic integration of ESG (Environmental, Social and Governance) into Factor Investing. They help provide a set of Factor Indexes that aim to be more "ESG-aware".
With more investors seeking to integrate ESG into their Factor allocation strategy, MSCI Factor ESG Target Indexes are designed to combine Factor and ESG exposures simultaneously in a transparent and efficient manner. The indexes are constructed based on parent MSCI indexes, which are used as benchmarks by many institutions; they are designed to allow for seamless allocation along with liquidity and replicability.
The methodology used in MSCI Factor ESG Target Indexes aims at maximizing the exposure to the target Factor along with 20% ESG score improvement of the Factor index relative to its parent market-cap weighted index1. This approach is designed to be scalable across regions and countries, and across both single and multiple-factor indexes.
For further information, download our factsheet.
1 "Factor Investing and ESG integration" Melas et al, MSCI Research, November 2016
A leader in Factor Indexes and ESG Rating and Research, MSCI continues to lead innovation by combining the merits of both to bring next generation Factor ESG Target Indexes to market.

INTEGRATING FACTORS AND ESG
MSCI's approach of optimizing Factor and ESG exposures places higher weighting on the stocks above the curve. This approach is highly customizable to achieve intended dual Factor and ESG enhancement.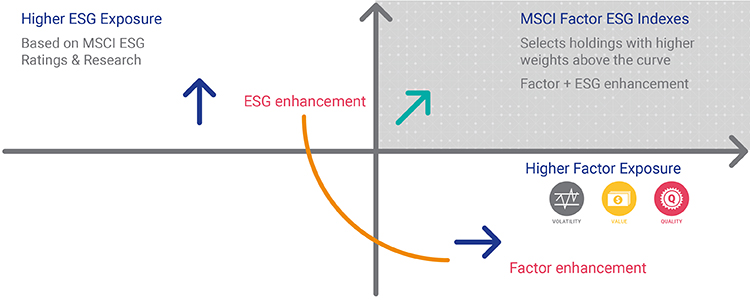 Performance, factsheets and methodology
Additional insights and research