Growth-Value Leadership Diverged Regionally After Russian Invasion
Growth-Value Leadership Diverged Regionally After Russian Invasion
Growth-Value Leadership Diverged Regionally After Russian Invasion
With thanks to
Zhen Wei
for the contribution
For markets, Russia's build-up of military forces along its border with Ukraine last November reinforced the growth-to-value style-factor rotation across global and regional equity markets that began in late 2020. Following Russia's invasion on Feb. 24, 2022, growth started to outperform value in the U.S. and Europe, but the growth-to-value rotation continued in emerging markets (EM).
What drove this persistent underperformance of growth relative to value in EM?
Performance attribution, based on MSCI's Barra Emerging Markets Equity Model (EMM1), shows that style factors, compared with country and industry factors, were the predominant drivers of the relative performance of value and growth, prior to and after Russia's invasion.
More specifically, from Nov. 30, 2021, to Feb. 23, 2022, country, industry and style factors explained 0.1%, -0.8% and -6.3% of the -8% growth-value relative performance in the EM (based on the MSCI EM Growth and MSCI EM Value Indexes). Post-invasion through March 29, 2022, country, industry and style factors explained 0%, 0.3% and -1.8% of the -2.4% growth-value relative performance.
Post-invasion, growth stocks rebounded vs. value in US and Europe, but continued to underperform value in EM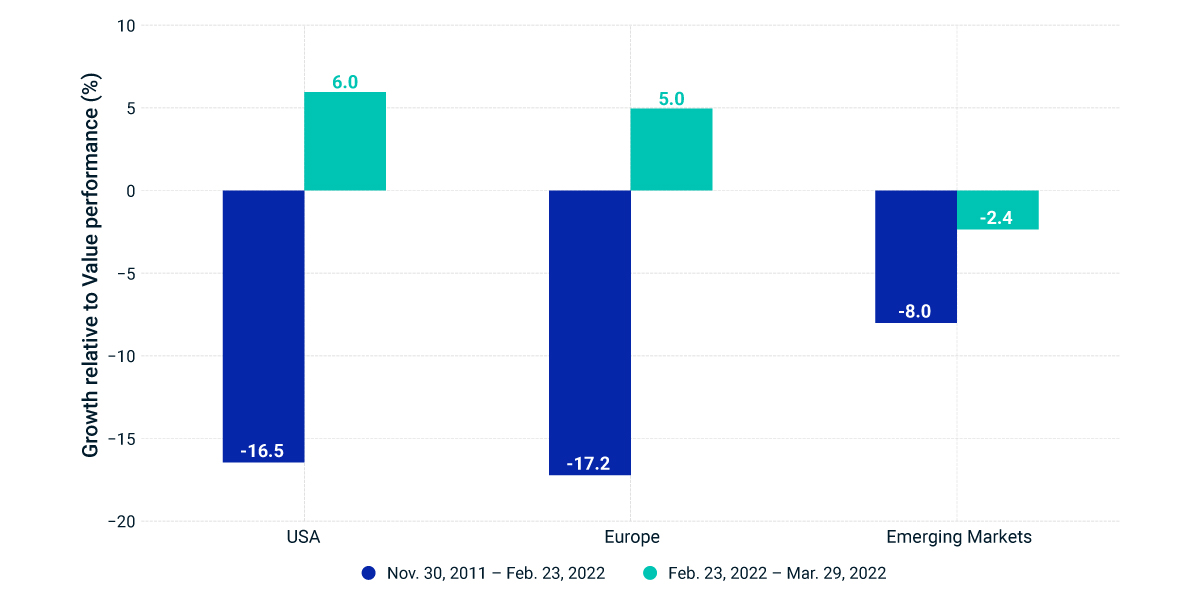 Style factors mattered more for MSCI EM Growth vs. MSCI EM Value Indexes' relative performance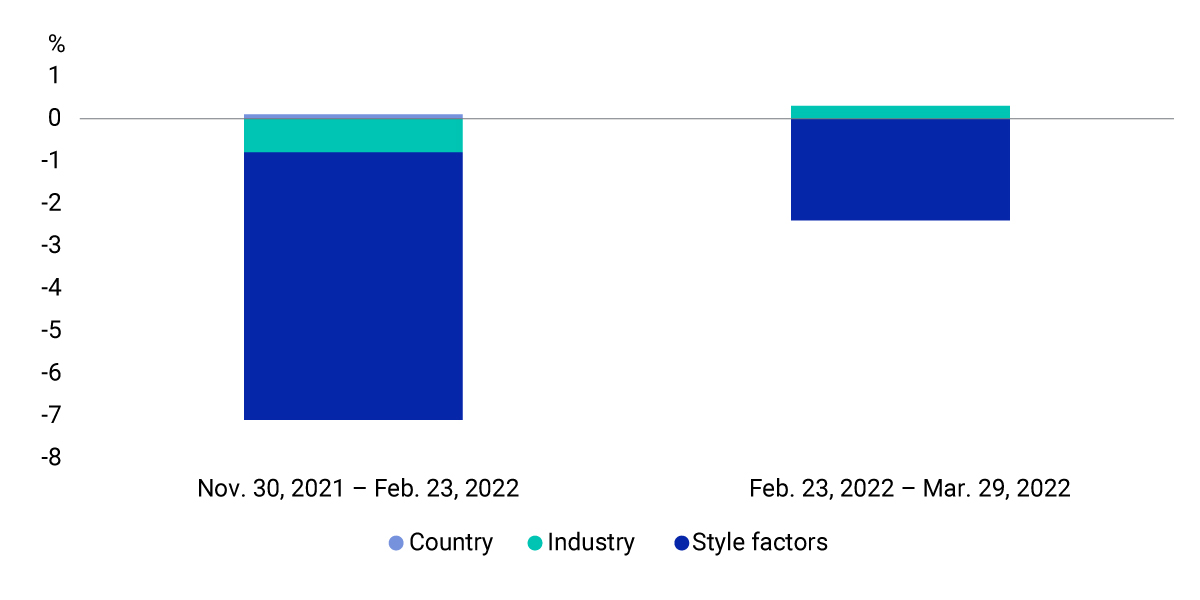 Related Content
Research and Insights
Our investing insights explore the topics that matter most, whether on climate and ESG, current market trends or global investing and risk management across asset classes.
Explore More
Growth-Value Leadership Diverged Regionally After Russian Invasion related content