Markets Indicated Higher-than-Usual Downside Risk for EAFE and EM
Markets Indicated Higher-than-Usual Downside Risk for EAFE and EM
Markets Indicated Higher-than-Usual Downside Risk for EAFE and EM
Using option-implied-volatility skew — a measure often used to gauge downside vs. upside risk — we have seen a substantial increase in EAFE and EM index skew since the start of the war. While this measure has historically been more pronounced in the U.S. markets, the change there was rather muted. This may indicate heightened risk aversion for international exposures. While the skew has more recently come down for EAFE and EM, we still observe higher-than-normal downside risk in those regions.
Greater implied-volatility skew for EAFE, EM compared to respective histories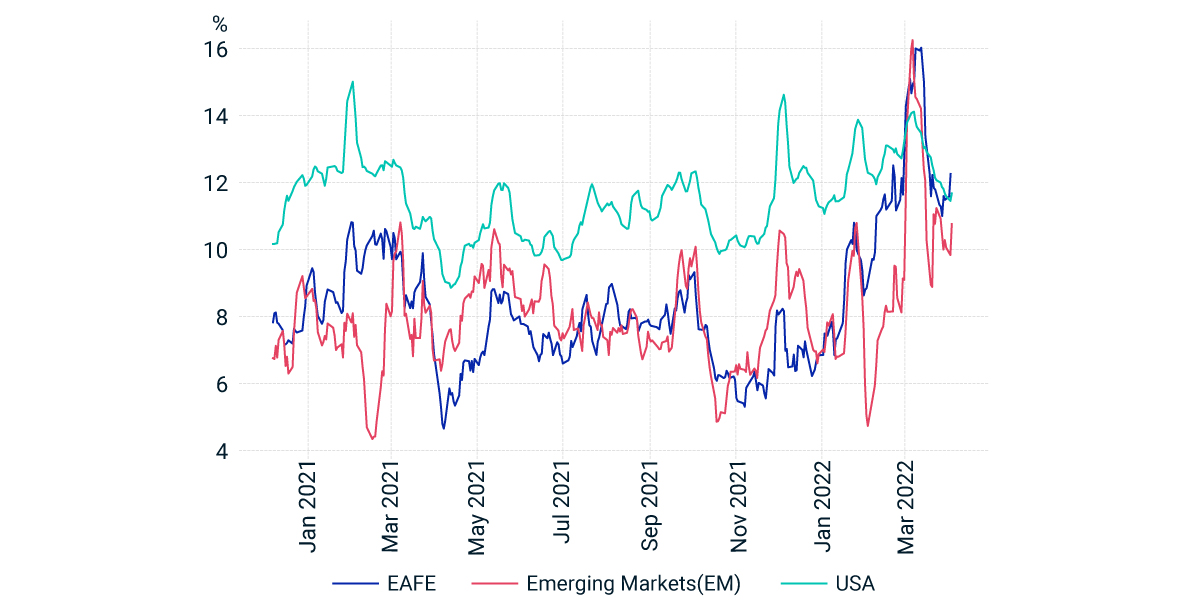 Implied-volatility skew has been calculated using the five-day moving average of the put-call implied-volatility spread of the 91-day 20-delta strikes. Options linked to the MSCI EAFE, MSCI EM and S&P 500 Indexes have been used for the EAFE, EM and U.S. skew calculations, respectively. Source: OptionMetrics
Markets Indicated Higher-than-Usual Downside Risk for EAFE and EM related content
Related Content
Russia - Ukraine War
MSCI is closely monitoring the Russian invasion of Ukraine and how it might affect our colleagues, clients, and business partners. We will continue to assess the implications.
Explore More
Not Your Father's Stagflation (or Is It?)
The first quarter of 2022 started with concerns about inflation and the potential for low growth — conditions many of today's investors haven't seen outside of textbooks.
Listen to Podcast
Russian Bonds: The 100-Year Storm?
The U.S. Treasury Dept. decided this week to effectively block payments to holders of two USD Russian sovereign bonds.
Learn More