Women on Boards: Progress Report 2021
Feb 28, 2022
MSCI's Women on Boards report takes an annual look at progress on gender diversity on corporate boards since 2009.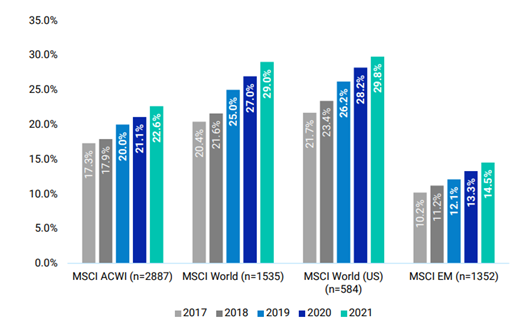 The chart shows the percentage of director seats held by women in 2017, 2018, 2019, 2020 and 2021 among constituents of the MSCI ACWI Index, MSCI World Index, U.S.-domiciled constituents of the MSCI World Index and MSCI Emerging Markets Index (index constituents as of October of each corresponding year). Boards of directors (one-tier board structure) and supervisory boards (two-tier board structure) are considered in this assessment.
Source: MSCI ESG Research LLC, November 2021
Although female representation at the board level has improved, the rate of change has varied year to year. Despite the ongoing COVID-19 pandemic, women representation on boards improved moderately in 2021 compared to the prior year among constituents of the MSCI ACWI Index.1
While the number of companies with all male boards declined overall in 2021, the CEO's office remained mostly out of reach for women across all regions. Click on this interactive dashboard to engage with some highlights of the report.
1as of Oct 29, 2021
Download Report