We are committed to helping the real estate investment sector raise its information, reporting and transparency standards to the level of the mainstream exchange traded asset classes. We release headline financial performance indexes on real estate markets around the world to enhance transparency. Below, you can choose to view MSCI Private Real Assets Indexes by type (derivatives, direct private property, property funds or transaction linked indexes) as well as by region (country and regional). View the MSCI Index release schedule.
With the support and commitment from sponsors and clients globally, MSCI's real estate services are constantly evolving. View our MSCI Index sponsors.
To view the Methodology documents for private real estate investment including annoucements click here .

ANNOUNCEMENTS:
IPD GLOBAL ANNUAL PROPERTY INDEX
This index reports the market rebalanced returns of the 25 most mature markets, together worth an estimated USD1.5 trillion as at end 2013.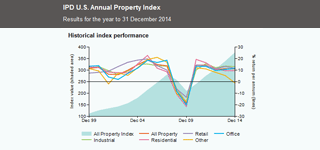 IPD USA ANNUAL PROPERTY INDEX
This Index measures ungeared total returns on almost 5000 property investments, with a total capital value of USD255 billion as at end 2014.