MSCI USA IMI SECTOR INDEXES HERO IMAGE

MSCI USA IMI sector indexes
MSCI USA IMI sector indexes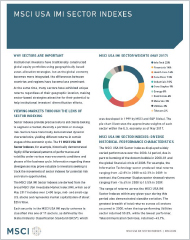 The MSCI USA IMI Sector Indexes are derived from the broad MSCI USA Investable Market Index (IMI), which includes over 2,400 large, mid and small cap stocks, covering approximately 99% of the free float-adjusted market capitalization in the U.S.
Each security in the MSCI USA IMI equity universe is classified into one of the eleven sectors defined by the Global Industry Classification Standard (GICS®), a widely accepted industry classification framework for investment research, portfolio management and asset allocation.

Download the MSCI USA IMI sector indexes brochure




MSCI USA IMI sector indexes CTA copy
If you would like further information about the MSCI USA IMI sector indexes, please fill in the form below.
An MSCI representative will contact you.
Contact Us Button (Contact Sales)
PERFORMANCE, FACTSHEETS AND METHODOLOGIES
ADDITIONAL INSIGHTS AND RESEARCH
GICS sector definitions
Covering Energy, Materials, Industrials, Consumer Discretionary, Consumer Staples, Health Care, Financials, Information Technology, Real Estate, Telecommunication Services and Utilities Sector.
Return of the cyclicals blog
Return of the cyclicals blog
In this blog we discuss how the U.S equity investors have experienced a roller coaster ride since U.K's Brexit and the U.S presidential election, and how these events contributed to a shift in the underlying fabric of equity markets.